WHAT DO THE COLORS ON RADAR MEAN?
METEOROLOGIST JEFF HABY
A weather radar is used to locate areas where it is raining or snowing. In order to determine the intensity of the falling rain or snow, different colors are used. While color schemes can be different, below are the most common colors that are used for precipitation.

Light green: light rain, or light rain aloft not reaching ground
Dark green: light to moderate rain
Yellow: moderate rain
Orange: heavy rain
Red: very heavy rain or rain and hail
White or blue: snow
Pink: freezing rain or sleet or mix of winter precipitation types

Below are a few sample radar images and color interpretation

Image 1: Greens indicate light to moderate rain. Yellows are oranges are moderate rain. Snow that is melting aloft will also often show as yellow or orange since radar thinks it is small hail.


Image 1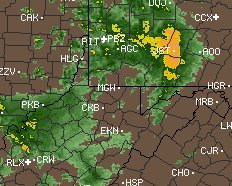 Image 2: Blue shows where snow is most likely. Pink is mix. Green is rain. Temperature profile along with ground reports and radar returns are used to estimate the most likely precipitation.



Image 2